HOME >> Willie Novelties
willy confetti soap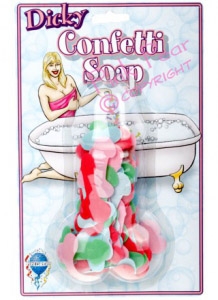 Sprinkle a few of these perky peckers into your bathtub for some soapy bubbly fun!
A bright assortment of confetti soap in the shape of willies! Sprinkle them under hot, running water for a tub full of bubbles and be sure to save a few to float in the surface!
These confetti soap bubbles come in fun willy shape packaging which makes them great for gift giving.
All you need is someone on hand to scrub your back!