HOME >> Pride Party Decorations
rainbow crime scene tape / cordon ribbon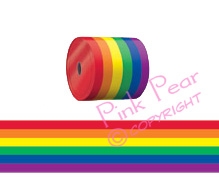 Your stag or hen party will be so much more fun when you decorate with this polystyrene gay crime scene style ribbon!
The only real crime would be if you don't order this now! No need to call the cops when you can secure the scene yourself.
Imagine all the good times you could have with this colourful ribbon! Indoors or out, it's a great way to secure the scene...the scene of the party!
Order now, and then put your hands in the air and spread 'em!
Over 15 meters long!