HOME >> Pride Pets
doggie faux fur coat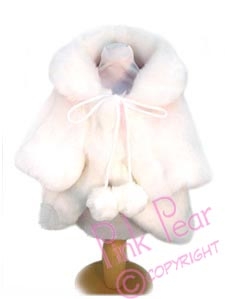 <!?xml:namespace prefix = o ns = "urn:schemas-microsoft-com:office:office" />

Your beloved pooch will feel like a princess in this stunning winter coat!
This gorgeous white faux mink coat is accented with pink lining to complete the luxurious look. This coat is made to an exceptionally high standard with a thick, luxurious finish.
Complete with two sweet little pom pom ties!

Neck: 12"
Chest: 19"
Length: 13"