Ireland gives a resounding 'YES' to gay marriage
posted on 23 May 2015 | posted in News Articles | ( 0 ) Comments

---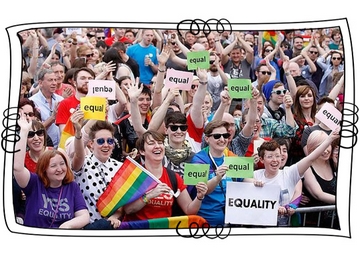 History is made in Ireland today - the first country to legalise same-sex marriage by popular vote.
Ireland has become the first country in the world to approve gay marriage by popular vote after more than 1.2 million people overwhelmingly backed allowing same-sex unions in a historic referendum.
Ballots from all 43 constituencies have now been counted and official figures show 62.1 per cent supported the reform, with the highest turnout at a referendum in Ireland in over two decades.
Celebrations spilled out into the streets as thousands of 'Yes" supporters gathered in the usually quiet grounds of Dublin Castle, cheering and waving rainbow flags, feather boas and umbrellas, and bursting into a rendition of the national anthem as the landslide results were revealed.

Ireland's equalities minister Aodhán Ó Ríordáin lost his composure earlier today when it became clear the way the vote would go, tweeting: 'Ireland hasn't just said "Yes"... Ireland has said: "F*** YEAAHHHH".
You can follow other blog entries via the RSS feed. You can also leave your own response. Site administrator reserves the right to reject any replies that are deemed inappropriate.

Comments ( 0 ) - Add Your Comment
---