Barry Manilow quietly married his longtime manager Garry Kief in 'surprise' wedding last year
posted on 9 April 2015 | posted in News Articles | ( 0 ) Comments

---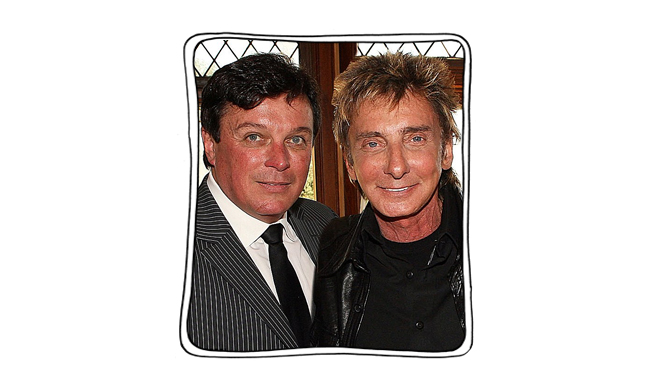 Barry Manilow married his longtime manager Garry Kief in a secret ceremony last year, it has been revealed.
They wed at his Palm Springs home in California in front of around 50 guests who only been told they were attending a lunch.
Apparently, the star who has millions of female fans around the world, was worried that if they made their union official, word would leak out about his sexuality and that his fans wouldn't approve of him being gay. But he went ahead and tied the knot with Garry because he's got his career and personal life in a great place and he really doesn't care what people think.
Garry was once married to a woman with whom he has a daughter but he and Barry have been together for more than 30 years. Barry was also once married to a woman.
Barry fiercely guards his private life and when he's not on the road, these days he retreats behind the gates of his 64-acre Palm Springs hideway. He has never publicly spoken about his sexuality although he has been the subject of rumors over the years.
'I am a private guy. You can only come into my world if I invite you in. From the very beginning that was the rule. I learnt how to deal with the publicity/press thing. You just say, 'I'm not interested in talking about that. That's the only way I can survive...... I don't want strangers knowing everything. If that happened, that would drive me crazy.'
Barry was discovered first by Bette Midler who hired him in 1971 to accompany her on the piano and serve as her musical director. A couple of years later, under Clive Davis's new label Arista Records, his second album Barry Manilow II, that featured Mandy, One Voice and This One's For You, catapulted him to international fame.
During the 1970s and early 1980s, he enjoyed phenomenal success with sell-out concerts and high-rated TV specials and his song Copacabana was used as the basis for a musical.
Barry has sold more than 80 million records worldwide, making him one of the greatest artists of all time. He is currently touring the U.S. with his Manilow - One Last Time! show.
The singer and songwriter does a lot of charity work and was one of the first stars to commit to helping the late Elizabeth Taylor when she first began trying to raise awareness of AIDS and raise money for HIV/AIDS research.
Well whatta guy! So nice to hear he has found happiness, we wish them all the best. This has just brought back a flood of Manilow musical memories - now I'm away to dig out some of those fabulous old CD's.....
You can follow other blog entries via the RSS feed. You can also leave your own response. Site administrator reserves the right to reject any replies that are deemed inappropriate.

Comments ( 0 ) - Add Your Comment
---