Emmerdale actress Michelle Hardwick marries long-term girlfriend Rosie Nicholl
posted on 6 April 2015 | posted in News Articles | ( 0 ) Comments

---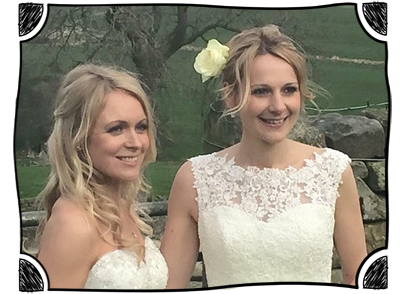 Congratulations to Emmerdale star Michelle Hardwick who married her girlfriend, Rosie Nicholl, over the Easter weekend.
Michelle posted a picture of her ceremony at North Yorkshire's Danby Castle to her official Twitter page on Saturday, which was warmly welcomed by fans.
She looked beautiful in a white, strapless gown which boasted an embellished bodice. Wearing her hair down in a cascade of curls, she added some nude make-up and defined eyeliner for a demure, classic look.
Rosie looked equally pretty in a more retro design, which featured a lace detail across the shoulders and bodice. She also wore a white rose in her hair.
Taking to Twitter to caption the shot, Michelle wrote: 'I can honestly say that yesterday was the best day of my life... Thankyou to my wife @rosiebone." The post was 'favourited" more than 1,000 times in less than 24 hours.
They met four years ago when Michelle was doing panto and Rosie was playing in the orchestra.
Michelle told her family she was gay when she was 28 after years of struggling with her sexuality. 'Family members would ask if I had a boyfriend and my excuse was I was too busy at work,' she said. 'I was nervous about telling them and didn't plan it, but my dad asked me and I didn't want to hide it. He was only upset that I felt I couldn't tell him before. My whole family have been amazing, as have Rosie's. We're very lucky.'
What a lovely couple, they actually both look quite similar!! Best wishes to them xx
You can follow other blog entries via the RSS feed. You can also leave your own response. Site administrator reserves the right to reject any replies that are deemed inappropriate.

Comments ( 0 ) - Add Your Comment
---