Disney World has become home to one of the biggest pride events in the world
posted on 5 May 2016 | posted in News Articles | ( 0 ) Comments

---
Gay Days at Walt Disney World is a loosely organised event where lesbian, gay, bisexual, and transgender (LGBT) individuals, their families, friends and supporters go to Disney World each year.
Held on the first Saturday in June, it is now one of the largest gay pride events in the world. There are numerous other events in the area during the preceding week, including "Gay Day in the Magic Kingdom".
According to Watermark, a Florida-based gay newspaper that has been covering Gay Days since it started, about 150,000 people attended this June's six-day gathering, which included 17 pool parties, a business expo, a comic-book convention, a film festival, an after-hours trip to a Disney water park (think dance music and guys in very small swimsuits), bobble-head painting and tie-dyeing for the kids, rivers of alcohol (and some other substances) for the adults and, on June 5, the great culmination: 20,000 to 30,000 lesbians, gays and their families and friends descending on Disney World, everyone clad in red shirts to signify their presence.
This years celebrations will take place in Orlando from 31st of May till 6th of June!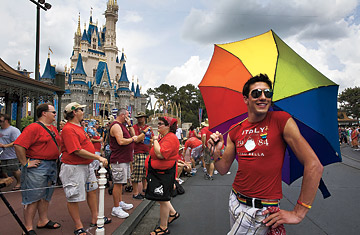 You can follow other blog entries via the RSS feed. You can also leave your own response. Site administrator reserves the right to reject any replies that are deemed inappropriate.

Comments ( 0 ) - Add Your Comment
---