Great British Bake Off favourite Ruby Tandoh comes out on Twitter...
posted on 3 April 2015 | posted in News Articles | ( 0 ) Comments

---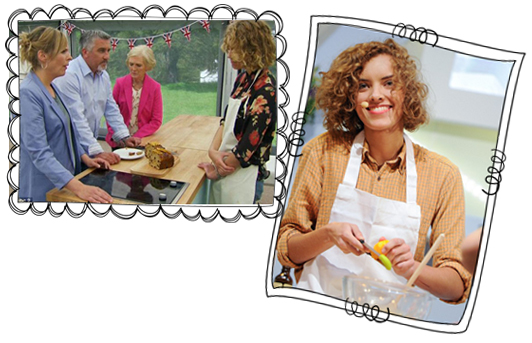 ...
and jokes she's finally putting those Paul Hollywood rumours to bed.
Great British Bake Off star Ruby Tandoh has come out as gay via her Twitter account.
The 23-year-old joked that she was finally able to move on from rumours about her and the show's host, Paul Hollywood, after she was accused of flirting with him on the show in 2013.
On Thursday, the show's joint runner-up, posted a video of Diana Ross" hit song, I'm Coming Out and revealed she had told her parents about her sexuality.
She wrote next to the clip: 'Me to my parents today. feeling lucky and joyful and f r e e. over and Out.'
The former contestant added: '& to all the bros who hate social media, who pit it against 'real life" - I never would've had courage to be me w/out twitter's qu**r queens.'
Hitting out at those who suggested she had fancied Hollywood, she said:
'p.s. for those who thought I fancied Paul Hollywood or that I'd ever bang him to get ahead - JOKE'S ON YOU, YOU MASSIVE S****ING MISOGYNISTS."
During the series, Ruby was accused of flirting with the judge Paul Hollywood - and of crying to garner sympathy from him and his fellow judge Mary Berry.
But she revealed her fury at the barbs at the time, in a piece in the Guardian newspaper:
She said: 'I'd rather eat my own foot than attempt to seduce my way to victory."
You go girl! And we think those tweets are pretty smart too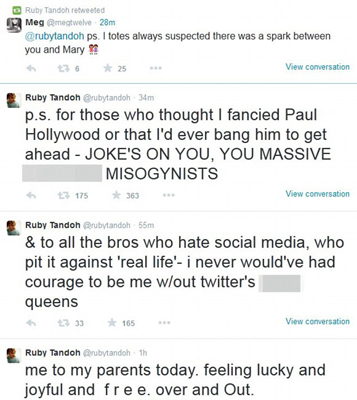 You can follow other blog entries via the RSS feed. You can also leave your own response. Site administrator reserves the right to reject any replies that are deemed inappropriate.

Comments ( 0 ) - Add Your Comment
---